'In the beginning' – Genesis 1, God
'And now, Father, glorify Me in Your presence with the glory I had with You before the world existed. I have revealed Your name to those You have given Me out of the world. They were Yours; You gave them to Me, and they have kept Your word. Now they know that everything You have given Me comes from You.' – John 17, Jesus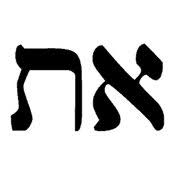 We have been learning recently about Aleph-Tav, the first and last letters in the Hebrew alphabet, and their occurrence throughout Scripture. In the Old Testament alone, they occur over 7,000 times. They are easily quoted as 'the first and last' or 'beginning and end' but there is more to their meaning than that. The Hebrew understood these 2 symbols as 'fullness, completeness' in particular to God's covenant reference with his people.
Anyone familiar with the New Testament will recognise of course, the reference there to Jesus as not only the beginning and end (Revelation) but perhaps more so, the fullness or fulfillment of all that is God. This for the doubters, and there are many, that Jesus is both God and man. We get in John 17, this beautiful passage where Jesus never seeks to replace the Great Jehovah, but underscores his fulfillment of all that God is. This great King wants to be our Lord and Saviour.
So what about us?
This has been playing on me for some time over the past few weeks, crystallising in recent conversations we've had on the street. Meet Ram and Anne-Marie.
Ram is a Nepalese student here in Sydney. Lonely, working 50 hrs each week above his studies just to live, he is depressed and quiet. We shared the Gospel through him by using the 3-Circles, an outline of the brokenness in our lives, and God's answer to that through Jesus. I drew it on a small piece of paper, ideal for Ram whose English was just okay. "Which circle do you see yourself in?"
"Brokenness of course," Ram replied without hesitation.
"Which circle would you like to be in?" we asked, to which Ram replied, "God's perfect design."
It all leads us naturally to an introduction to Jesus. God's perfect design for us, is fulfilled in the person of Jesus, God's Aleph-Tav for humanity. We shared and prayed with Ram, gave him our phone number and sent him on his way a brighter person with hope, than when we had met.
Next up, there was Anne-Marie.  Anne-Marie had spent a life teaching RE in Catholic education. Hard-bitten to the core, she rejects the notion that there is a God, that Jesus was anything other than a good man and (yawn) that all religions all lead to God. How dare we imply that Jesus will return and judge us.
No matter how hard we tried, Anne-Marie would not listen. Fuelled by a lifetime of anger and bitterness, God was blamed, and her students blinded.
As we walked away, and I thought about these 2 people over the next few days, I was reminded again of Aleph-Tav. God it seems, view just two types of people in this world. It has nothing to do with riches, or status, education or where we live – or even how bad we are. We are simply Christ's or Christless.
If we are Christ's, then he is indeed our beginning and our total fulfillment. Nothing else will complete that for us. However, if we reject Christ, then he will also become our end. At the point when we die, rather than there being a new beginning, there will be an eternal ending. Only then do we realise there is no fulfillment – nothing at all, outside of Jesus. You can read lots more on Aleph-Tav elsewhere and it makes for some beautiful reading.
God, the great Yahweh, intended for Jesus to be our total fulfillment, just as Jesus – Jeshua, is to God. We are, all of us, created that way. If we already live in that existence, then part of our work is to find others who don't know, and tell them.
Aleph-Tav, a story that needs to be passed on, the story of completeness.