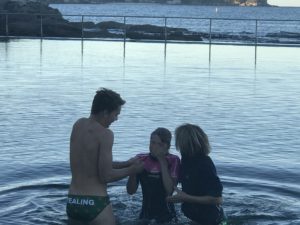 Who shall separate us from the love of Christ? Shall tribulation, or distress, or persecution, or famine, or nakedness, or danger, or sword?  As it is written,
"For your sake we are being killed all the day long;
we are regarded as sheep to be slaughtered."
No, in all these things we are more than conquerors through him who loved us. For I am sure that neither death nor life, nor angels nor rulers, nor things present nor things to come, nor powers, nor height nor depth, nor anything else in all creation, will be able to separate us from the love of God in Christ Jesus our Lord. – Romans 8, Paul
MC Hammer wrote a song in 1990, 'Can't Touch This' about his rise to stardom from poor, black, rural America. I heard it again this week. Hammer, apparently a believer, hit the heights in the '90s and accrued enormous wealth, such that his eyes must have been circling considering where he came from. I wonder how his faith lasted with so much entanglement?
This morning at 7am, we woke up to baptise Maelle, our lovely Swiss student, who decided earlier this week to make Jesus her Lord. Sally and Tom introduced Maelle to Jesus through a simple diagram, and then went through some Bible verses with her. We answered some of her questions, and told her again how much God loved her. She responded almost immediately in the affirmative, that she wanted Jesus as Lord. All we did was our job, Jesus does the miraculous.
Can't touch this?
For Maelle, the promise of never being separated from the love of Christ, now and throughout all eternity.  Such a promise, almost incomprehensible, the divine loving the human. In our explanation, we talk of brokenness, as we often do when we share the Gospel. Rarely does anybody have any difficult comprehending this part. Lives torn apart by goodness only knows, hearts seared with pain from smashed relationships. After brokenness, we move to God's perfect design for us; how on earth did we get from that to brokenness? Quite simply, we do things our own way. Few seem to miss any of this when we share it. Surely someone, God, loves them?
Then, we come to God's solution for it all, the love of Christ. Christ showed us how the Father wants us to live, to relate back to him. For the first time in history, God became Father to all people, if they would only accept him. He went further, of course, he stood in the dock and received all the punishment due for us. With every step, Maelle seemed to want to hear the final story, as if there was an ache that needed to be healed somewhere inside, as the Spirit convicted.
Can't touch this?
For us, leading people to Christ and making disciples is the most fulfilling thing on the planet. We have so much in our lives, but to be frank, nothing comes close. All the riches of this world are incomparable against the beauty of seeing God's greatest miracle in a life, that of rebirthing someone to a new life through his Son.
So we encourage everyone, everywhere to be obedient to Christ. A big part of our lives in making disciples, is to take ordinary people and tell them that God has a job for them to do; to go out and do the same in their community. This is not the domain of the clergy, or priests or just those with special training or status, no, we are all called to this task. It is so hard for existing believers to grasp this, but much less for new ones.
This week and into the coming months, if you read this please pray for Maelle. God is starting to really move in our little world here, and we have quite a few in our Discovery Group who are close to coming to Christ, or better understanding him. We would like to see and pray for multiplication.
Imagine what he can do with one young person in a small Swiss village, committed to his ways.
Can't touch that, can you.