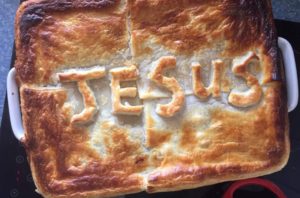 "We do not make requests of you because we are righteous, but because of your great mercy." Daniel 9
Friends, things are moving for us here. Perhaps more than we can keep up with. So, I thought I would ask people to pray specifically for some people. There are others as well, but these are some of the more obvious situations. We are blessed by the work we have been given here.
On Saturday night, we had a Festival Gathering, where a group of believers from all around Sydney came together to celebrate, share, study and eat. It was a wonderful (see the pie above) evening. We prayed particularly, that the Lord would display his mighty power in the lives of those who need it especially. We invite anyone who reads this, to continue that prayer with us.
Matthew, we met on the streets. He comes from a very strict sort-of Christian background where he was regularly beaten for doing wrong. He left home after becoming violent with his parents (amongst others) and lives on the streets. Matt comes to our discovery group on a Sunday afternoon, and needs desperately to see the Father heart of God, so tender and gracious. He needs to be healed of his violence, and to repent and turn fully to Jesus
Sam, another from the streets so young. Grew up in a church, but is undecided about God and faith. A year ago he was hit side-on by a motorcycle and has crushing pain all the time. Subsequently, Sam became addicted to prescription drugs, and now smokes weed to control the pain. He is a busker on the street, highly intelligent and searching. Again, Sam needs healing physically, and for the Spirit to break into his life and show him that Jesus is Lord.
Maelle, our Swiss student who we baptised before she left. She still follows the Lord and is so grateful that we took the time to share our faith in Christ with her. She needs to find local Christian community so that she can begin to get grounded in the faith, but that it would be the right community for her. Pray the Lord would lead her.
Vicky, from the local Community Housing project who also comes along to our Discovery Group. Vicky suffers from mental illness but is finding Jesus along the way. We prayed with her recently about a new house and really went away convicted that the Lord wanted to answer her prayer, even if she had doubts. Sure enough, she has just moved into a new place and has discovered how God answers all our prayers.
Matt, a different one. Another one who suffered abuse as a child, this Matt is an ex-ice addict and recovering schizophrenic. He has a fledgling faith, and battles with his addiction, but we pray again that the Lord would break through into his life and heal him – both physically and emotionally (aren't they always connected). He too comes to our Discovery Group.
Sakib, the cleaner. Sakib is from Bangladesh and as you may remember sat with us one Sunday afternoon as we ran Discovery Group. Sakib is a Muslim, but he has never been loved. He comes every week to our Group, and recently came along to the Festival Gathering we had on Saturday. Get this – Sakib shares the lessons from our Discovery Group with his Bangladeshi mother. Jesus in a movement, how good is that. Please pray that Sakib will see that Jesus is the way to God's heart and love, and through Discovery, will come under his Lordship.
Rebekah, our Rebekah. She loves the Lord and is so passionate about following him, yet suffers terribly from Crohn's disease. Please pray continually that the Lord would set her free from this and that the Devil in particular would not maintain a stranglehold on her health.
There are others, but please join us if you can. We long to see Christ's breakthrough in people's lives and are so excited to be part of his work as we seek to bring God's mercies into each and every life we meet. Thanks so much.