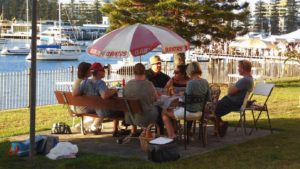 the people living in darkness have seen a great light; on those living in the land of the shadow of death, a light has dawned. – Matthew 4
A year ago, we met Mannie on the streets down here in Sydney. I remember it so clearly because it was Melbourne Cup day. There we were, 3 of us sitting on the steps outside the Municipal building chatting, praying, sharing. We were dressed in ragamuffin clothes while around us people in their finery were rushing to make it to lunch before the race.
Emmanuel has a mother who lives in the local housing commission, affectionately known as Alcatraz. Picture it for a moment; a 100-unit block right on the Sydney waterfront. Imposing, yet almost unknown locally, it is home to those whom society has both forgotten and mostly discarded. Ever since coming here we have been drawn to the place and have met, over the past months, quite a few Alcatraz inhabitants. We have prayed extensively (though not enough) and over time, met more and more people. Our sense from the Lord is to keep going, to watch as the power of God is unleashed through his Spirit, as the Gospel of Christ is preached to those who are captive.
Captive?
For most here, life is an endless round of depression, addiction, drugs (illicit or prescription) and visits by well meaning medicos whose role is to keep them away from mainstream society. The Webster packs (daily drug doses administered in weekly or fortnightly packs by nurses) can run 14-deep. Who will set them free?
We have toiled with this question a great deal. Like to know what we have learned? Firstly, that God heals and delivers today, and he wants to heal much more. He chooses us (on the whole) to heal through. Friends, nobody else will set these people free from the darkness that envelopes them. Secondly, the task is huge. The demonic, the darkness, the deliverance doesn't get dislodged by a few 10-min prayers here and there. We are in a battle, and the stakes are high. Can you imagine what would happen if the wider community began to become aware that people were being delivered and set free down here? Lastly, we need to believe. This is a big mountain. Will God really set this place free? We, the believers at least, must trust God implicitly that he wants to do this.
Despite our doubts, we believe more than ever that God wants to demonstrate his mercy and power in this place. Over the past 12 months we have made inroads. Monthly, we run outside BBQs down by the waterfront. Tenants are starting to notice, and they now hover around to find out what is going on (as well as get fed). At last week's meal, we prayed for Colleen whom we had never met before. She has emphysema, so desperate yet so lovely. Every time we meet, we run Discovery Bible Study around the picnic table and pray for each person.
As a result, a few more opportunities have started to spring up. Some are willing to meet during the week for Discovery Bible Study and prayer, and we encourage them to open their homes to others within the complex.  We are looking to rent the local community centre to encourage some to come out during the week.
Still though, we need prayer. Lots of prayer, lots more than we currently have. We need labourers too; those who live locally who are willing to labour with us in Christ.
We want to see Christ move through his Spirit. To see the oppressed set free. As we listen to the stories of lives that somehow got derailed, I realise how it could have so easily been me. Born into different circumstances, or with just a few things changed in my life, I could have been there. So, could you. How would you go as a pubescent girl with an alcoholic mother who force-fed you Vodka from an early age? What would the chances of 'normal' be for you today?
There are dozens of other stories. Are they all innocent, of course not? But is God rich in mercy, so much. He loves them, his Son died for them. He wants to save them and only he can. Friends, if you will, pray with us. Pray for more workers, and against the darkness of Alcatraz, that the Father of Heavenly Lights would shine on those in darkness.
We come into a seasonal time that is especially beautiful for believers, a time when God decided to act decisively against the darkness of this world. Pray especially that the darkness over Alcatraz might be lifted, and the light of Christ would shine in.